UV Design 能量计 150
适合量测温度较低瓦数较低之巩灯
  原厂代理商,100%德国进口
#6种侦测波长,正确选择所需波长范围
   UV 150 ,type 1 350~460nm(Diazo)
   UV 150 ,type 2 315~400nm(UV-A)
   UV 150 ,type 3 250~410nm(Standard)
   UV 150 ,type 4 280~315nm(UV-B)
   UV 150 ,type 5 230~280nm(UV-C)
   UV 150 ,type 6 395~445nm(UV-V)






UV-Integrator 150
The UV-Integrator 150 is a high quality UV measuring instrument. It is used to measure UV energy of different light sources, especially on printing machines. It is ideal to ensure quality control of printing and drying processes.
Small size, heavy duty pass-through Integrator with a diameter of 90 mm. It is reliable and simple to use.
The UV-Integrator 150 is available in six different measuring ranges*: (Please state upon order)
29.1 UV-Integrator 150, Type 1 Diazo         350 – 460 nm
29.2 UV-Integrator 150, Type 2 UV-A         315 – 400 nm
29.3 UV-Integrator 150, Type 3 UV             250 – 410 nm (Standard)
29.4 UV-Integrator 150, Type 4 UV-B         280 – 315 nm
29.5 UV-Integrator 150, Type 5 UV-C         230 – 280 nm
29.6 UV-Integrator 150, Type 1 UV-V         395 – 445 nm
*further spectral ranges available upon request
By addition of the incidence of the light quantities during the exposure cycle, relative values are
calculated.
Because of uneven radiation distribution of the UV light source and different type of construction of the measuring devices by different manufacturers, different readings may appear under the same measurement conditions.
Technical Data:
Spectral range:UV 250-410 nm
Measuring range:0 to 5000mW/CM2

Display:6-digit LCD

Display range:0 to 999,999 mJ/cm2

Power source:long life 3.6 V Lithium Battery


Power consumption: 100 µA 10,000 hrs

Battery service life: Dimensions:∅3.5" (90 mm), height ½" (12 mm)


Weight:approx. 5 ounce (140 g.)

Temperature range/Heat protection:0 to 45° Celsius

Base Accuracy:Heat shield on back plate ± 5 %
          In the standard version it is measuring an integral
          in the spectral range from 250-410 nm, with a peak
         
          at the area of 330 nm.
While on the conveyer belt, the UV-Integrator 150 can withstand max. 110° Celsius for up to 10 seconds. The temperature of the housing should not exceed 45° Celsius.
Calibration:
In order to keep its full function and precision it is recommended to have re-calibration done once per year. Re-calibration will also be necessary after change of battery. Ongoing, PTB traceable calibration with certificate
Warranty: 2 years from the date of purchase, for the German quality battery we guarantee one year
如何辨识UV Design 能量计UV Int 150 真伪
我司为德国UV Design 授权代理商,目前在大陆地区亦无正式代理商
仿间目前仿冒品充斥,辨识方式有下列几点:

1.外观只要是铝面+蓝色网印,100%均为仿冒品,原厂印刷请参考产品资料

此印刷图面均为大陆仿冒品,台湾地区若购买到此外观均为不肖厂商从大陆低价购买仿冒品
再以高价在台湾贩售,因此你可能以原厂的价格买到仿冒品,若有此类状况发生可直接跟原
供应商退货或索赔,已知在台湾地区贩售仿冒品厂商有永汇丰.

锦亮

...等

2.量测波长范围

原厂生产之UV Int 150组总共有6种侦测波长.而非只有一种250~400nm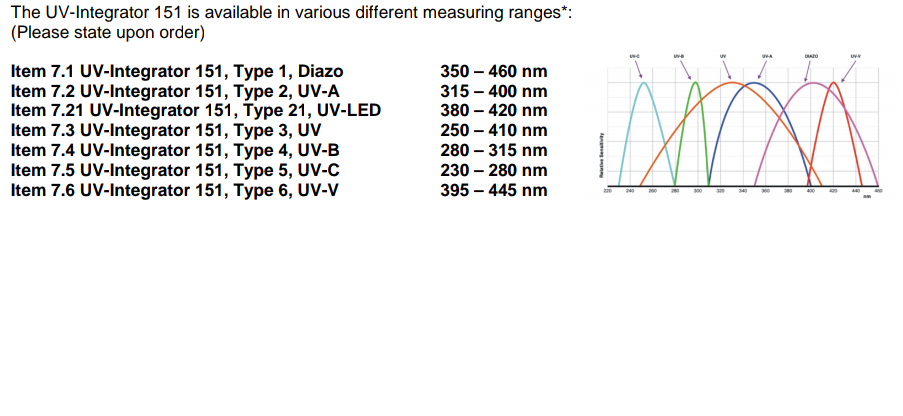 3.原厂产品均有datasheet 供选购前参考
若有任何UV量测问题或UV Int 150 辨识问题 ,欢迎洽询
目前我司不处理UV 能量计仿冒品之异常或检修
敬请见谅!!